Larry was born in Los Angeles and educated in literature, political science, and life at the University of California, Berkeley. In the 1960s he worked behind the scenes with Andy Warhol and the Velvet Underground on the Exploding Plastic Inevitable in NY, Provincetown, Los Angeles, and San Francisco. In 70s Chicago, he immersed himself in radical politics as journalist and poet. He was mentored by Dean Koontz in the 80s, survived a corporate career in newpapers in the 90s, and shared a palazzo in Venice with opera singer Erika Sunnegårdh in the new millennium.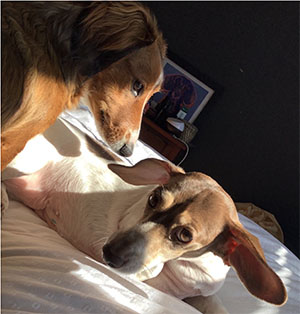 During the five years he lived in Venice, Larry taught English, led tours, hosted a B&B, and immersed himself in the history and art of the Venetian Republic. The Ballot Boy was born in Venice and completed in St. Paul.
Larry is a lifelong social activist and writer, a voracious reader and researcher, an opera fan, and a devoted walker. He currently lives in St. Paul with his partner of twenty-one years and his ex-wife of twenty-five years. His son is a pianist devoted to blues and jazz.